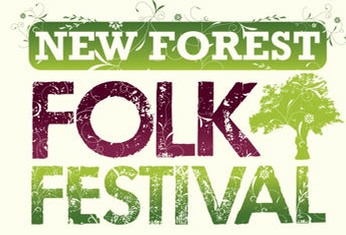 Friday
Saturday
Sunday
Workshops & Singarounds
Wednesday
Thursday
Traders
Childrens Area
REG MEU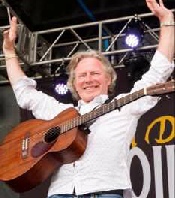 ROSS - "Reg Meuross sounds like a forgotten, American 60s classic with echoes of Dylan, Tom Paxton & Leonard Cohen" Robin Denselow, The Guardian
We are happy to welcome one of our favourites, Reg Meuross, back to NFFF. Reg Meuross is a true modern troubadour, representing contemporary English folk writing at its best. "There's something special about the way he writes and delivers a song" Townes Van Zandt. In the mid-1980s Reg Meuross formed the Panic Brothers with Richard Morton, mixing Americana with humour and slick harmonies. Then came the Flamingos, Hank Wangford, and now 11 highly acclaimed solo albums have established his songs as 'the hinges upon which swing the doors of perceptive English folk' (Folkwords).
Reg's songs comment bravely on life as he sees it, bringing wide ranging stories from the ghosts of WW1 soldiers to the ravages of dementia, and some of the most beautifully disarming songs and lyrics ever written. Reg has that rare gift of being able to touch people, through his songs and performance, on a really human level. His words and music paint pictures that remain with the listener long after the song has been sung.
"Meuross, quite simply, is one of the best" 
Malcolm Carter, Pennyblack Music
"Powerful and moving songwriting" Martin Chilton, The Telegraph
"A mighty songwriter and an equally fine singer" Martin Carthy

Reg will once again be doing his very popular songwriting workshop in the "Fringe".
Artist information for Saturday
SHOW OF HANDS - Steve Knightley and Phil
Beer are widely acknowledged as the finest acoustic roots duo in England. Knightley (who was born in nearby Southampton) writes most of their inspired material and Beer, a dazzling multi instrumentalist, have built up a huge following which has seen them sell out the Royal Albert Hall three times, headline major festivals from Glastonbury to WOMAD and playing all over the world, from Europe to America, Australia and India.
Voted Best Live Act by the public at the 2004 BBC Radio 2 Folk Awards, the jury is still out on just what kind of music they play. A genre defying mix of rock, roots, blues, country and trad, and often influenced by the music of other countries, it is played out on an array of instruments from slide guitar to fiddle, mandolin to South American cuatro.
At the 2010 BBC Radio 2 Folk Awards Steve and Phil received a prestigious double accolade when they were named 'Best Duo' and also clinched the 'Best Original Song' award for Steve's punchy 'Arrogance Ignorance and Greed' title track which has gone on to be one of the most acclaimed – and continually topical! – songs in the SoH repertoire.
We are delighted that they will be joined by Miranda Sykes, who has been performing with Show of Hands since 2004, augmenting their unique sound with her powerful double bass and rich harmonies. In this time the band have moved on from their folk duo image, and evolved into a hard hitting acoustic band, selling out UK and European tours and headlining some of the biggest festivals across the world.
ACOUSTIC STRAWBS
- comprise of David Cousins, along with lead guitarist Dave Lambert, and the astonishingly versatile Chas Cronk, who together formed the front-line of the classic 1970s line-up of the band.
Acoustic performance demands a level of seasoned harmonic craftsmanship and the band's unplugged versatility and energy, gained over decades of rich experience have earned the Strawbs the kind of accolades most acoustic groups can only dream of. Strawbs have a unique component in their intricate prog-rock music – they emerged out of the British Folk Movement of the mid-1960s.
Dave Cousins has been described by the prominent All Music Guide as 'the most talented Dylan influenced songwriter to come out of England'. Plaudits such as this are rare, reserved for only the elite, a category the Strawbs inhabit naturally. With terrific songs, sublime melodies, a true feel for tradition and superlative vocal harmonies, they occupy a special place in British acoustic music.
"From beginning to end, this veteran group put to shame bands a third their age with the majesty of their arrangements, the craftsmanship of their tunes and lyrics, which remain as socially relevant as they were decades ago…. The band's vocal harmonies at this stage of their career are tighter and soar higher than anything Crosby, Stills and Nash ever did." New York Music Daily
"Hearing the brilliant Strawbs at the Edmonton Folk Festival was like a tutorial in UK folk music from the past 40 years." (Edmonton Sun)
"The songwriting was phenomenal, and the way the trio embellished sublime melodies with supreme harmonies and incredible instrumentation made their performance unforgettable. In fact, I repeatedly thought "music just isn't this good anymore"." (Philadelphia Examiner )
RIC SANDERS TRIO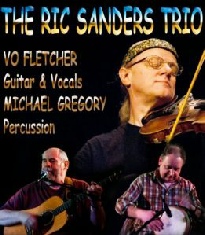 - Since 1985 Ric Sanders has been the fiddle player in Fairport Convention. In the late 70s he played in both Soft Machine and The Albion Band, and it was in the latter that he met Michael Gregory, now drummer with The Home Service. Ric's association with guitarist and vocalist Vo Fletcher goes back even further – they played together when still teenagers. Vo has played with artists as diverse as Rik Mayall and Nigel Kennedy (just to keep Ric on his toes!).
It was inevitable that these three pals would play together, and over the last decade they've been involved in many projects, from recording Miles Davis classics live in Lincoln Cathedral to improvising an album with the inspirational Anjali Dance Company. Over the last couple of years though, they've taken a different direction, reconnecting with the music closest to their hearts. It's music firmly rooted in the blues.
They love playing it, and their recent performances have shown just how much people love hearing it – a rockin' good time was had by all!
SOUTHAMPTON
UKULELE JAM - Since forming in 2008, Southampton Ukulele Jam have been thrilling, confusing and occasionally frightening crowds along the South Coast - playing songs by everyone from The Stones and The Ramones to Jessie J and Lady Gaga in their own inimitable, ramshackle style
There are upwards of fifty players who get together regularly to play everything from folk to punk - literally. Tunes are suggested by the group and if they can work out the chords they will usually give it a go so expect to see our stage packed to the rafters and blasting out some well known tunes.

In previous years they put on a very popular workshop at "The Fringe" by the bar where everyone was invited to get up and have a go. Even those that had never played before learnt a chord or two. They will once again do the same in 2017
BARNEY NEWMAN
- Barney Newman is a singer/song writer from Oxfordshire playing guitar and banjo.
As well as performing his own material he also plays country blues and old time classics.
Barney has played around the Midlands for many years and recently been touring the South East, south west of England and In Wales.
He played a well received set at NFFF last year and is also one half of an exciting duo with the brilliant Tom Leary.
GARY FLETCHER BAND
- Gary's music straddles folk, Americana and blues and he's released several albums featuring both electric, acoustic lineups as well as the acclaimed 'In Solitary' solo offering, which along with the electric 'Giant From the Blue' album, secured 4 star reviews from Maverick and R2 magazines. Bob Harris has featured Gary live in the studio on his BBC R2 show several times and had him to play sessions for his YouTube channel 'Under the Apple Tree'.
A founder member of The Blues Band with Paul Jones he has appeared with and/or recorded with Peter Green, Maggie Bell, Van Morrison, John Mayall, Long John Baldry, Guy Barker, Bernie Marsden, Micky Moody, Kim Simmonds, Henry McCullough, Zoot Money, Nat Adderley, Guy Barker, the Memphis Horns, Christine Collister etc.
Outside of The Blues Band he performs a mix of originals and classic covers using guitar, slide, banjo, mandolin and ukulele. Amongst the musicians that will be joining him on stage at the New Forest Folk Festival will be ace fiddle player Tom Leary (Feast of Fiddles, Lindisfarne, Little Johnny England etc).
JANET DOWD & BRENDAN GOFF
- `Glorious Voice....a rare quality'....Phil Coulter
Janet Dowd hails from Co.Armagh and has been singing for over 20 years with various bands in Ireland and England. In 2010, she released her debut album 1300 Miles' on Blue Cow Records. The album is a collection of traditional folk songs with a hint of bluegrass sway, inspired by the many talented musicians and wonderful songs discovered during numerous trips around Ireland and Scotland.
Since it's release, the album has been Number 1 in Irish Music Magazine and her version of the song `John Condon', was named the BBC Radio Devon song of the year on Richard Digance's show 'Devon Folk'.
Janet has collaborated with an exceptional group of local musicians to perform in venues all over Ireland and has taken part in festivals in England and Scotland including the annual Celtic Connections Festival at the Royal Concert Hall in Glasgow. More recently, she has had the honour of performing live with some exceptionally talented musicians including the legendary Ric Sanders & Chris Leslie (Fairport Convention) and the wonderful Tom Leary (Lindisfarne & Feast of Fiddles).
In September 2013 she released her `Sailing Away' which was produced, recorded and mixed by the extremely talented multi-instrumentalist Jonny Toman and mastered by Jon Astley at 'Close to the Edge' in London. The album took the Number 1 spot in Irish Music Magazine and stayed in the Top 10 for over a year.

We would like to thank Teccare for their support and for once again sponsoring our festival